Périgord
Périgueux Canoe-Kayak
15 MINUTES FROM THE CAMPSITE
Not to be missed in the Dordogne: canoeing, paddleboarding, kayaking or spending good times with friends. 15 min from LA FORÊT ENCHANTÉE, our partner Périgueux canöe-kayak offers rentals, paddleboarding classes, youth classes, group rides, night rides and more.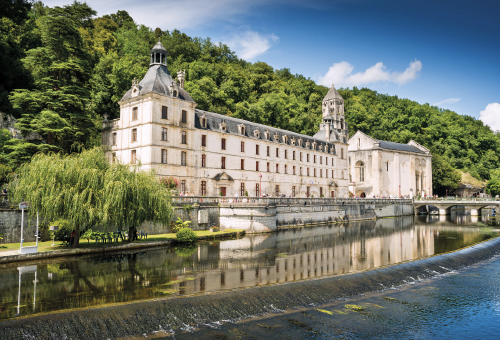 Brantôme
Périgord Noir
The Venice of Périgord... Discover this magnificent village built around the abbey, surrounded by the Dronne River and a luxurious green landscape. The Benedictine abbey is one of the jewels of the Dordogne's religious history. It includes an abbey church, a cloister gallery, an 11th century Romanesque bell tower built on a rocky outcrop, caves and a monastic building housing the museum of painter Fernand Desmoulin.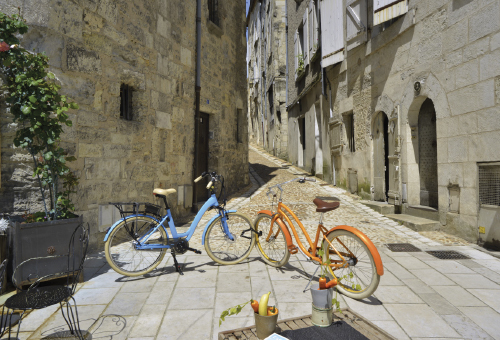 Périgueux
Périgord Vert
Périgueux, capital of the Périgord, a city with 2000 years of history. Walk through this open-air museum in the Gallo-Roman quarter, then head towards the historic center to admire remarkable Renaissance mansions or traditional wooden houses. Finally, you get to the city's landmark, St. Front Cathedral. End your day on the banks of the canal at the Vagabond Garden, home to a hundred species of plants, birds and mammals.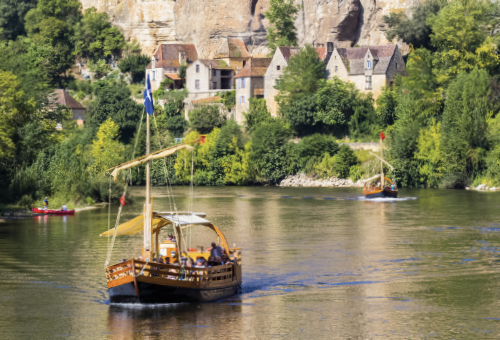 Roque-Gageac
Périgord Vert
France's third favorite town that is nestled into the cliffside, La Roque-Cageac is one of the most beautiful villages in the country. You can admire the golden houses with flagstone or tile roofs that are reflected in the waters of the Dordogne. Enter the village. Contemplate the Tarde manor, the church with traditional bell tower-wall and beautiful roofs. A guaranteed getaway in an exotic garden: palm trees, banana trees, cacti and fig trees will enchant all ages. Don't leave without sailing on a scow, a 19th century merchant ship where you can observe the beautiful scenery along the Dordogne.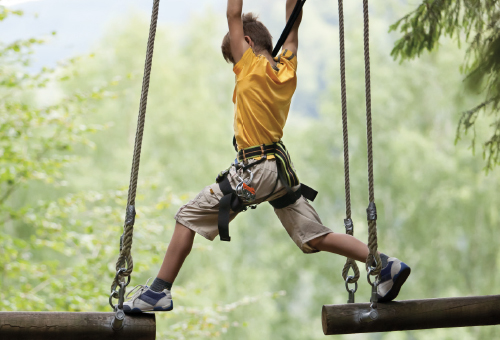 Cornille Aventure
RIGHT BY THE CAMPSITE
You can walk to Cornille Aventure from LA FORÊT ENCHANTÉE, which offers 4 outdoor activities: a ropes course (even at night on Fridays!), an 18-hole landscaped mini-golf course, outdoor laser tag and 2 life-size escape games, unique in the Dordogne. Thrills, fun, and relaxation guaranteed.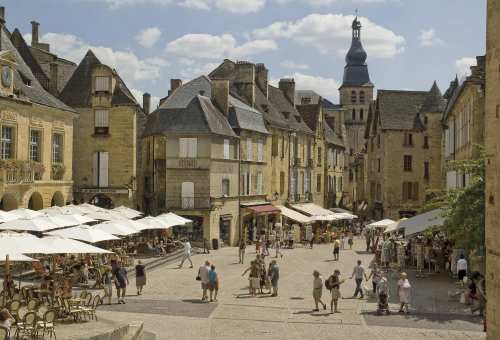 Sarlat
Périgord Noir
Take time to discover this jewel of the Périgord Noir. Stroll through the cobblestone streets of this medieval town, meet local farmers at the market and artisans in the shops. You will be surprised by how many monuments there are to photograph in this city of art and history. There is plenty to do, even with Covid restrictions. More than 157 ourist sites and activities are accessible without a health pass.